Convert Psd To Jpg
Download and install the latest version of Filestar.

Right click on one or more Psd file(s) on your desktop and select Convert with Filestar.

Type convert to jpg in the search box.

Press Convert.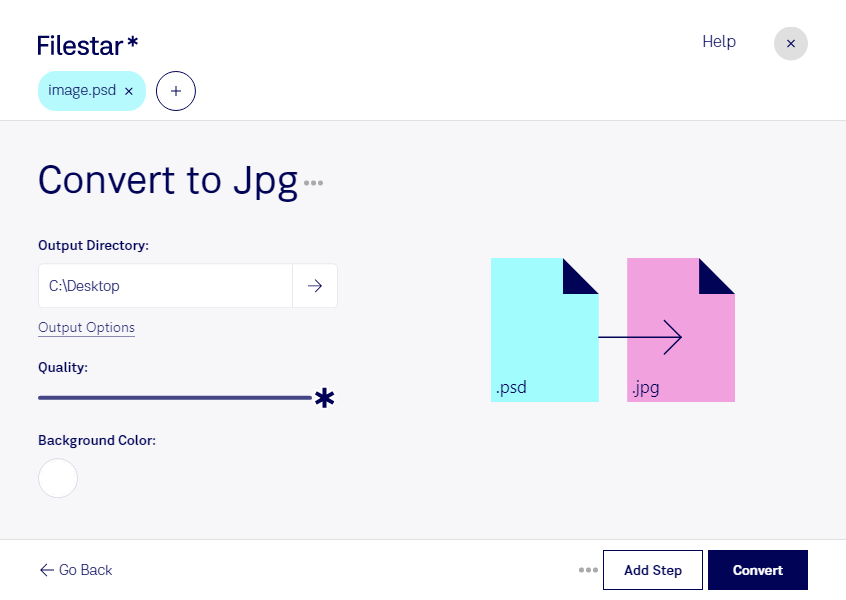 What is the difference between .psd and .jpg?
Extension

.psd
.jpg
Format

Binary
Binary
Category

Raster Image
Raster Image
Developer

Adobe Systems
Joint Photographic Experts Group
Description

A PSD file is an image file created by Adobe Photoshop, a professional image-editing program often used to enhance digital photos and create web graphics. It is the native format used to save files in Photoshop. PSD files may include image layers, adjustment layers, layer masks, annotations, file information, keywords, and other Photoshop-specific elements. They are commonly created and shared among graphics professionals.
A JPG file is an image saved in a compressed image format standardized by the Joint Photographic Experts Group (JPEG). It is commonly used for storing digital photos and used by most digital cameras to save images. JPG files are among the most common image files along with .PNG, .TIF, and .GIF.
MIME Type

image/vnd.adobe.photoshop
image/jpeg
Sample
Wikipedia
Convert Psd To Jpg Today
Get started within minutes