Convert Mp4 To Gif
Download and install the latest version of Filestar.

Right click on one or more Mp4 file(s) on your desktop and select Convert with Filestar.

Type convert to gif in the search box.

Press Convert.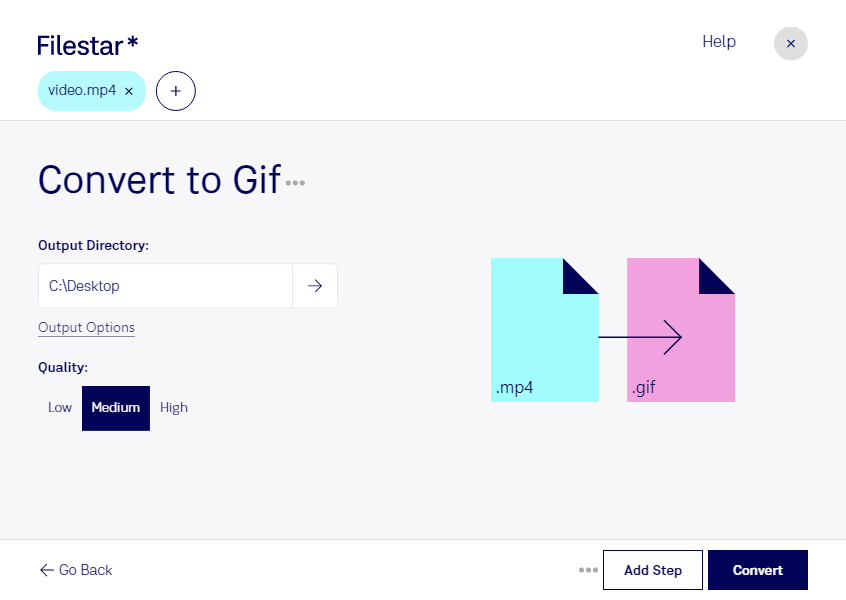 What is the difference between .mp4 and .gif?
Extension

.mp4
.gif
Format

Binary
Binary
Category

Video
Raster Image
Developer

Moving Picture Experts Group
CompuServe
Description

An MP4 file is a multimedia file commonly used to store a movie or video clip, but may also contain subtitles or images. MP4 is short for MPEG-4 Part 14, which is a container format based on the QuickTime File Format (QTFF) used by .MOV and .QT files.
A GIF file is an image file often used for web graphics. It may contain up to 256 indexed colors with a color palette that may be a predefined set of colors or may be adapted to the colors in the image. GIF files are saved in a lossless format, meaning the clarity of the image is not compromised with GIF compression.
MIME Type

video/mp4
image/gif
Sample
Wikipedia
Convert Mp4 To Gif Today
Get started within minutes